Green 4 feature in 100th issue of FC Business Magazine.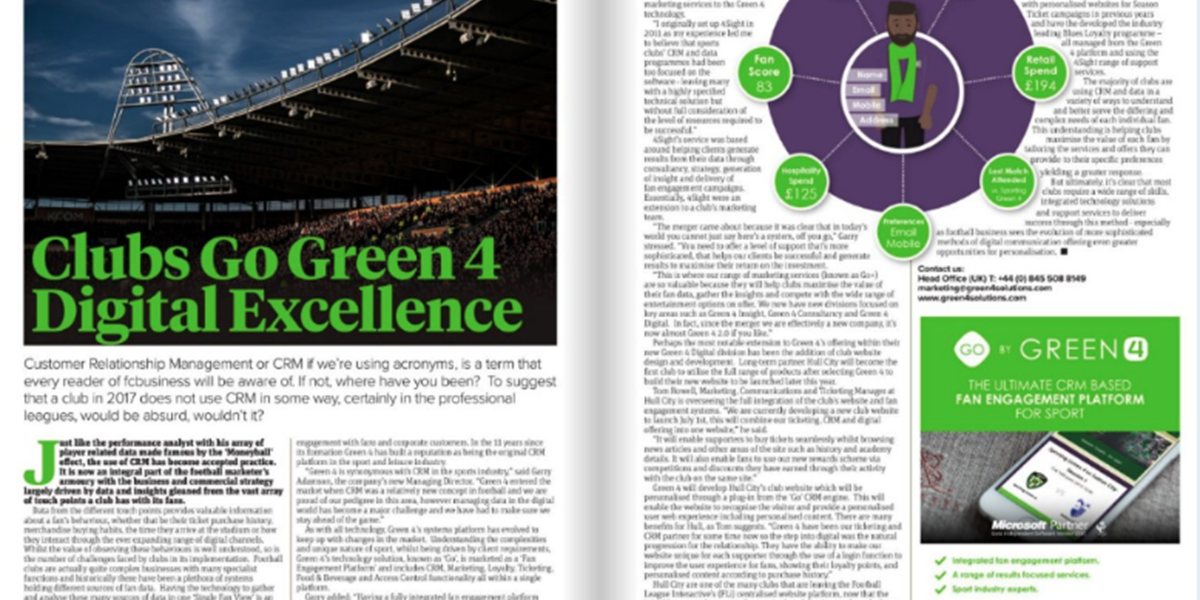 We are very proud to have an article published in the 100th issue of FC Business magazine, discussing how CRM is used in the world of football.
CRM is now an integral part of the football marketer's armoury with the business and commercial strategy largely driven by data and insights gleaned from the vast array of touch points a club has with its fans. Having the technology to gather and analyse these many sources of data in one 'Single Fan View' is an essential requirement alongside the level of resources and skills to make it happen.
"Having a fully integrated fan engagement platform where all of the key functions are provided within the same system means that data capture challenges are easier to overcome. But you also need to offer a level of support that's more sophisticated, that helps our clients be successful and generate results to maximise their return on the investment. This is where our range of marketing services are so valuable because they will help clubs maximise the value of their fan data, gather the insights and compete with the wide range of entertainment options on offer," said Garry Adamson, Green 4's Managing Director.
One of the most notable additions to our offering is within our new Green 4 Digital division - club website design and development. Long-term partner Hull City has selected Green 4 to build their new website to be launched later this year.
Tom Rowell, Marketing, Communications and Ticketing Manager at Hull City is overseeing the full integration of the club's website and fan engagement systems. "We are currently developing a new club website to launch July 1st, this will combine our ticketing, CRM and digital offering into one website," he said.
Read more in the full article here.