Employee Spotlight - JP Medland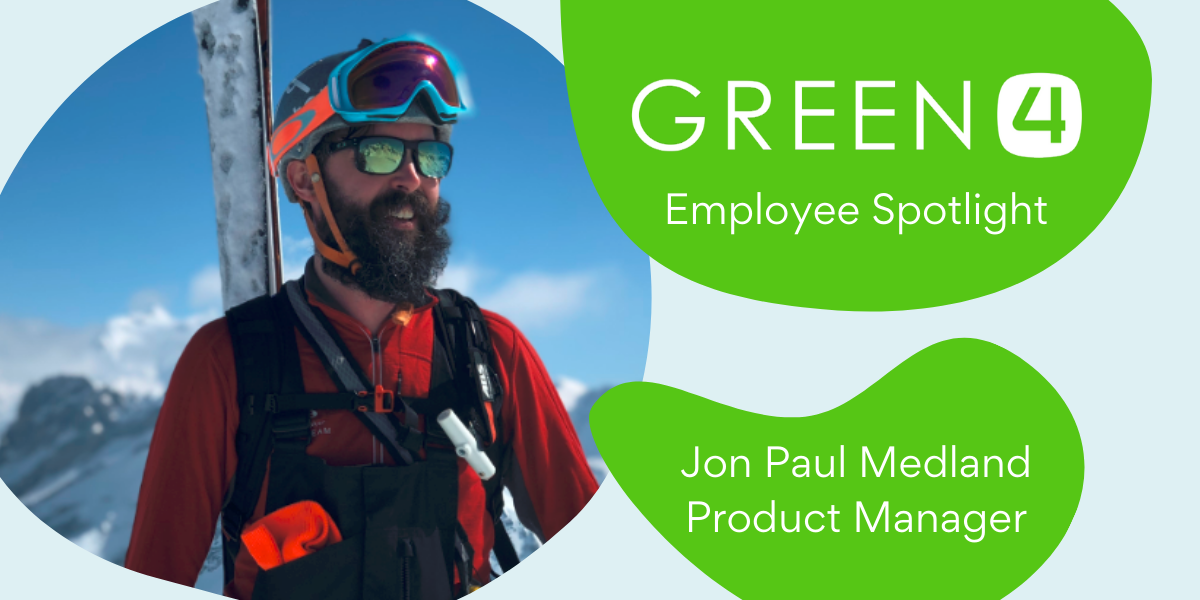 Employee Spotlight - JP Medland
We thought you might like to know a bit more about the team here at Green 4, what their roles are and what they like to do outside of work. First up it's our new Product Manager, JP Medland...
What is your job role at Green 4, and what do you do on a day-to-day basis?
I'm Green 4's newly appointed Product Manager, so my day to day is calibrating a little at the moment but generally involves wearing any combination of my different hats at any given moment.
How long have you worked for Green 4?
I've been at Green 4 for 6 years now, although I was client side for over 7 years using and developing the Green 4 system while at Chill Factore.
What have been your impressions of the leisure and attraction industry?
It's a great industry to work within because it's packed full of awesome people striving for the best experiences for their guests.  As my good friend Tom Roffey, Head of Ops @ Chill Factore says "We're making people's dreams come true!".
What would be your number one tip to leisure and attraction operators in order to get them to attract more visitors and increase engagement?
Understand your data, or lack of it, as it's the lifeblood of progression. This W. Edwards Deming quote always resonates with me… "Without data, you're just another person with an opinion."
What is the biggest issue that leisure and attraction operators face?
The weather, speaking from a UK perspective obviously 😊
First song bought?
It was actually a compilation tape but for the sole reason that it had 'Oh Carolina' by Shaggy on there.
The song you'd sing at karaoke?
Probably 'Shoot the Runner' by Kasabian, great band and not many lyrics – everybody's happy!
Worst job you've had (hopefully not this one ;) )?
I've had some shockers in my earlier years, but drilling the holes in the plastic lids for YoSushi is up there! 10,00 holes in 10,000 lids – I'll never get that week back.
Favourite Film?
Honestly not sure, but I watched 'The Pianist' recently (thanks Netflix) and that really gripped me – I'm listening to Wladyslaw Szpilman's memoirs now (thanks Audible).
Who would play you in a movie about yourself?
I've been told I look like Ryan Reynolds (I'll take that) so probs him, although he'll have to let himself go for a few months...years, before filming.
Favourite Food?
Tartiflette!  Preferably served in a French ski resort, with a cold demi after a blue bird powder day.
Favourite Drink?
Kraken & coke all day long – literally!
Favourite place to go on holiday?
Lake Annecy in the foothills of the French Alps. Absolutely stunning place, incredible energy and so close to all that snow.
If you could travel anywhere in the world tomorrow, where would you go?
Literally did that a few days ago as I boarded a plane to Japan to chase the snow on the north island of Hokkaido. Its been a dream of mind to go there for such a long time.  Although I'd go straight back to Yosemite with my wife in a heartbeat.
Favourite leisure activity?
As you might have guessed by now, I'm a pretty keen skier. When there's no snow about, I'll swap the planks for my mountain bike. I also started MMA last year. Paying to get beaten up – why not?!
Favourite day out?
Can't beat a Sunday morning walk with my wife and our bulldog, Mr. Beefy, to the great central railway in Leicester for a lovely cuppa and a cake.
Favourite sport/team?
Newcastle United – nothing more to say ☹
What do you enjoy doing in your spare time?
If I'm not tinkering in the house with yet another unfinished project, I'll be chilling with my wife and our dog.
What one thing could you never give up?
My MK1 Transit Campervan aka 'the money pit'. We've visited some incredible places in it, although we generally ended up coming home in a recovery vehicle. I love it and hope to keep it running for a while yet.
Your biggest achievement?
12 years of marriage and counting. Although, a close second is my crowning glory becoming the British University Slopestyle Ski champion back in 2004!
Tell us something we don't know about you.
I'm a music video superstar!